In Loving Memory
Lisa Marie Hackman
January 20th, 1961-March 11th, 2005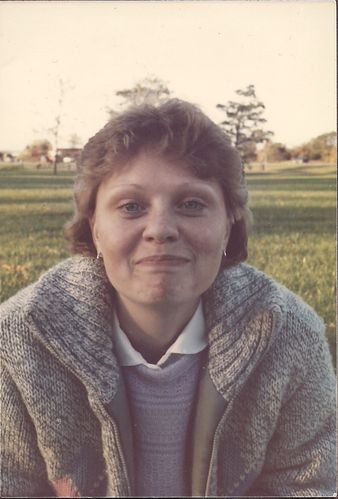 Lisa was a wonderful person, and one that I will never forget. She was a loving wife, aunt, sister, and daughter. I knew her as my Auntie Lisa, and I knew her since even before I can remember. She was always there for me. She was loyal, kind, caring, and just an overall great person to be around. She brightened up every room she stepped into. She was so great to my Godfather.
I still don't believe that you're gone, Lisa. The whole time I was in Michigan I thought you were gonna come in and give me one of those great hugs, and I still think here at home you are going to do the same. It all still feels like a nightmare. You were so important to me. I hope you understand how much. I hope that I made you feel as good as you made me and all of our family feel every time you were around. I know that you knew how important you were to everyone. I hope you know just how much you meant to me, and really how just how important you were to me and all of us up until the moment God called you home. I know you are watching down on me and all of your wonderful family as we go through this tough time. I will never forget you, in all my life, so in that way, you are never really gone. I don't doubt I will think of you every hour of every day for a long time. But I know I will never be alone now.
I Thank You for the all the years you blessed my life with your presence, and for showing me what toughness and courage really are. I miss you. I love you. And I always will. I end this with one of her favorite hymns that she sang with her beautiful voice.
I Am Jesus' Little Lamb
I am Jesus' little lamb,
Ever glad at heart I am;
For my Shepherd gently guides me,
Knows my need, and well provides me,
Loves me every day the same,
Even calls me by my name.

Day by day, at home, away,
Jesus is my Staff and Stay.
When I hunger, Jesus feeds me,
Into pleasant pastures leads me;
When I thirst, He bids me go
Where the quiet waters flow.

Who so happy as I am,
Even now the Shepherd's lamb?
And when my short life is ended,
By His angel host attended,
He shall fold me to His breast,
There within His arms to rest.


Rest In Peace, Sweet Auntie Lisa