About Me
---
A little bit about me... well, my name is Don Jarrett, I'm a 39 year old programmer residing in Albuquerque, NM. I work for Justice Systems, Inc. as a Data Migrations Specialist. I've always(and still) considered myself more of a programmer than any type of database admin. I've been coding for about 20 years in a bunch of different languages.
On October 5th, 2013, I married my soulmate, Laura Encinias. She completes me. I never thought I'd know true love and she makes me never doubt it. I love you so much Laura.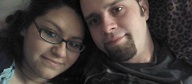 We have two kids, Lorenzo, who is 11 years old, and Oliver, who is 3. I love my sons very much, and even did something I never thought I'd do for Lorenzo, I coached his soccer team (twice)! Being a father makes me nervous as hell, but with the help of my wonderful wife we find a way to be good and attentive parents.
Our baby Oliver was born March 30th, 2014 at 8:28pm. He weighed 5lbs, 5oz, and was 18" in length. He's so beautiful, and I never guessed in my life that I would so instantly be in love with someone. You can read about Oliver here. He's my pride and joy.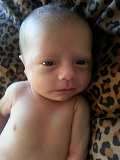 I also have an absolutely incredible family. I have 3 sisters, and I love each of them very much. My life would be a completely different thing if it weren't for them, they've helped make me a better person since day 1. My parents are amazing as well. I can tell my Mom & Dad just about anything and I will be given good advice with no judgment. I hope every day to make them proud.
I'm a gigantic sports nut. I love them all pretty much, except for NASCAR, which I've never really gotten a full understanding of. I still follow it somewhat though. My favorite sports are football(especially college), basketball, baseball(my favorite to watch or attend), boxing, MMA, soccer, hockey. My favorite teams are the University of Michigan(any sport, but football and basketball the most), the Detroit Red Wings, Tigers, Pistons and Lions, the Los Angeles Lakers(huge Lakers fan), Tennessee Titans, New York Yankees, Atlanta Braves, Los Angeles Dodgers, Internazionale(Serie A). My favorite players of all-time are Lou Gehrig, Brendan Shanahan, Shaquille O'Neal and Zinedine Zidane. My current favorite players include Miguel Cabrera, Pavel Datsyuk, Pau Gasol, Peyton Manning, Aaron Rodgers, and there are many others. My current favorite fighters are Floyd Mayweather and Junior dos Santos.
I also cannot live without music. My top 5 favorite bands are The Who, U2, Pearl Jam, Metric, and Wu-Tang Clan. I'll listen to just about anything, except techno/house or their related subgenres. And I love Les Miserables.
That's about it. If you have anything you'd like to ask me about coding, databases or just general stuff, please feel free to contact me. Peas!!
---
Site Thanks
Thanks to my beautiful wife for making my life amazing. To my family for everything. Tons of site and life help provided by Eric M. Wright.
Copyright (C) 2022 Don Jarrett. Proudly hosted by 8-bit Alley.